Gutter Clean Out & Leaf Guard
Residential gutters are often overlooked, but are really important in maintaining a residence's quality. In Florida's rainy climate, the gutter system controls and directs rain water flow. Uncontrolled water flow can damage building foundations, erode and destroy landscaping, and result in puddling water that can lead to algae and mildew.
The easiest kind of gutter repair is simply preventative maintenance such as regular gutter cleaning. Water flow may bring leaves, twigs and other matter to the spout, which can cause the gutter to overflow.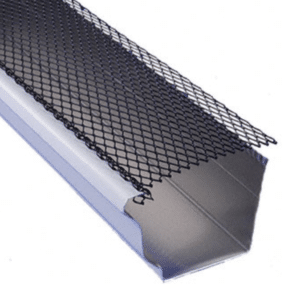 To prevent further debris from piling up in your existing gutter system, we highly recommend installing leaf protection. Gutters Unlimited offers a leaf guard design proven to provide the best protection from our Florida weather and foliage. It consists of medical grade steel with an aluminum powder coating. The black wire mesh design allows for maximum water flow into the gutter and reduces the harboring of mold.
Keeping a gutter system functioning at its peak efficiency is really a job for professionals. If you have any questions or concerns about your gutter system, please give Gutters Unlimited LLC a call. We offer free estimates, and a fast response.