Gutter
Cleaning
Cocoa
Beach,
FL
Gutters Unlimited is pleased to offer professional gutter-related services throughout the Cocoa Beach area, as well as in many of the surrounding communities, too. Some of the services that we offer include; gutter installation services, installation of gutter guards, gutter repair services, seamless gutter services, and some of the best services for gutter cleaning Cocoa Beach has available. When you are searching for a gutter company that can take care of all of your gutter-related projects, then please reach out to the expert staff from Gutters Unlimited.
Top-Rated Gutter Clean Out in Cocoa Beach
The gutter system of your home or business plays a very important role in protecting your property from water damage. A properly functioning gutter system can prevent water from flowing into areas where it cannot escape. This will help prevent any damage to your building materials. Consequently, if a gutter is not functioning properly, then water will find a way to freely flow. Over time, this could cause a real problem for the structure of your building. Untreated water damage will progressively get worse. It will eventually end up costing the property owner a lot of money for repair services.
Whether you are interested in learning more about our services for leaf gutter guards, rain gutter guards, gutter clean out services, gutter repairs, or gutter installation services, the team members from Gutters Unlimited are prepared and enthusiastic to help you with your project. Our team members are experienced, skilled, and equipped with some of the best tools in the industry. We are a certified company and we all place great emphasis on customer satisfaction. You can rest easy knowing that we will do everything that we can to protect your home, maintain your gutter system, provide leaf protection, and ensure that you are happy with the end results from one of our gutter-related services.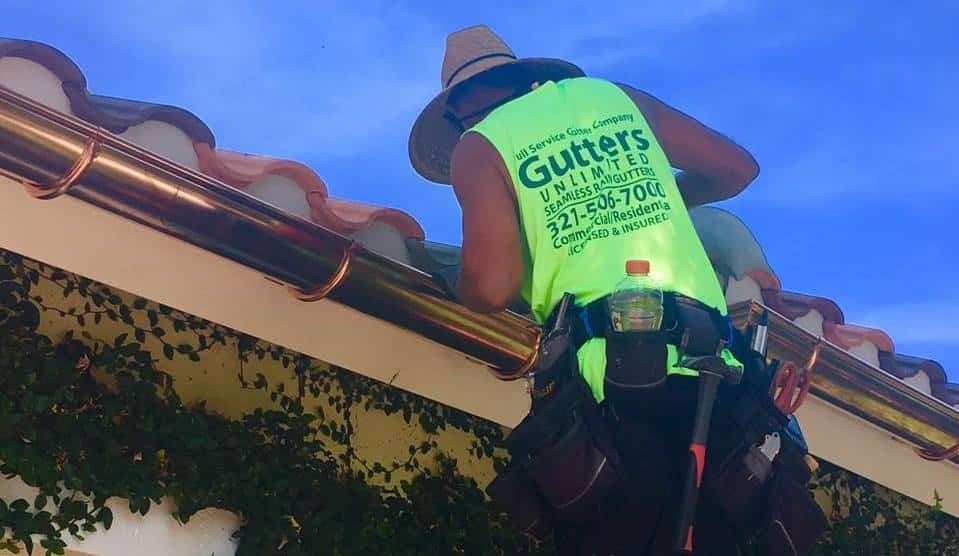 #1 Gutter Guards Installation in Cocoa Beach
Cocoa Beach is a beautiful, calming part of the Floridian west coast. Located near Port Canaveral and Kennedy Space Center, people in the area find that there are plenty of fun and interesting things to see in, and around, Cocoa Beach. Furthermore, Cocoa Beach is home to the largest surf shop in the world, Ron Jon Surf Shop, the Florida Surf Museum, the Cocoa Beach Pier, and some of the best surfing conditions available. Whether you are a full-time resident or a visitor in the area, chances are great that you can find engaging activities and peaceful areas all throughout the region.
The Best Leaf Guards for Gutters in Cocoa Beach
If you have never had leaf guards for gutters attached to your gutters before, then this leaf guard service is certainly something that you want to consider for future use. A gutter leaf guard is a unique attachment that covers the clean gutters and prevents leaves, limbs, and other debris from falling into the gutters and clogging the passageway of flowing water. With the rainstorms that we frequently see throughout the state of Florida, many property owners find great benefit in protecting their gutter system from debris that can become problematic for the flow of water.
Call Today for Rain Gutter Guards and Leaf Protection
If you would like to learn more about the full-range of gutter-related services that we offer, then please reach out to a representative from Gutters Unlimited at your earliest convenience. At Gutters Unlimited, we always offer free estimates for potential projects, as well as detailed descriptions about any of the services that we provide. We look forward to hearing from you at any time of the year! We can't wait to provide you with our gutter cleaning Cocoa Beach services.