Gutter
Installation
Cocoa
FL
You never know when hard rain is going to strike the area where your home or property is located. Because of this, you need to stay prepared by ensuring that your rain gutter system is in pristine condition. Rain gutters are very important when speaking about the foundational integrity and exterior appearance of your property. Gutters serve the sole purpose of redirecting excess water build up on your roof to designated drainage areas. When your gutter system begins to become clogged with debris, it can spell a disaster for you as the property owner.
Top Rated Cocoa Gutter Installation Services
At Gutters Unlimited, we have over 20 years of experience in the gutter repair and installation. Our team utilizes industry-leading tools in addition to our expert knowledge to ensure lasting service results. When it comes to installing seamless gutters, we specialize in 7" and 6" configurations in addition to custom gutter designs.
Regular rain gutters use several different joint connection points, this results in easier debris build-up and clogs. Seamless gutters on the other hand are outfitted with fasteners, only the corner and downspout areas have joints connecting them. Seamless gutters provide a much more efficient means by which your home redirects the flow of excess rain water.
All of our seamless gutter installation services utilize premium grade components, underground drains also come standard with our installations. Prior to the Cocoa seamless gutters instillation process beginning, our field technicians will conduct a thorough inspection of your property. This allows us to identify key variables such as roof height and the primary material composition of your home.
By using this information, we'll be able to choose the optimal installation method for your property on an individual basis. You can use our free quote option to receive an estimated price on your new gutter installation before finalizing your appointment. All of our cocoa gutter installation services are designed to provide you with the most efficient gutter system possible including seamless gutters in Cocoa.
We Specialize in Seamless Gutters as well as Soffit and Fascia installation in Cocoa

For those who are experiencing issues with their existing gutter system, our cocoa gutter repair procedures are exactly what you need. Ironically, the best way to repair your rain gutter is system is by employing the use of routine cleanings and inspections. By cleaning your gutter system on a regular basis, you can significantly reduce the odds of severe foundation damage occurring to your home.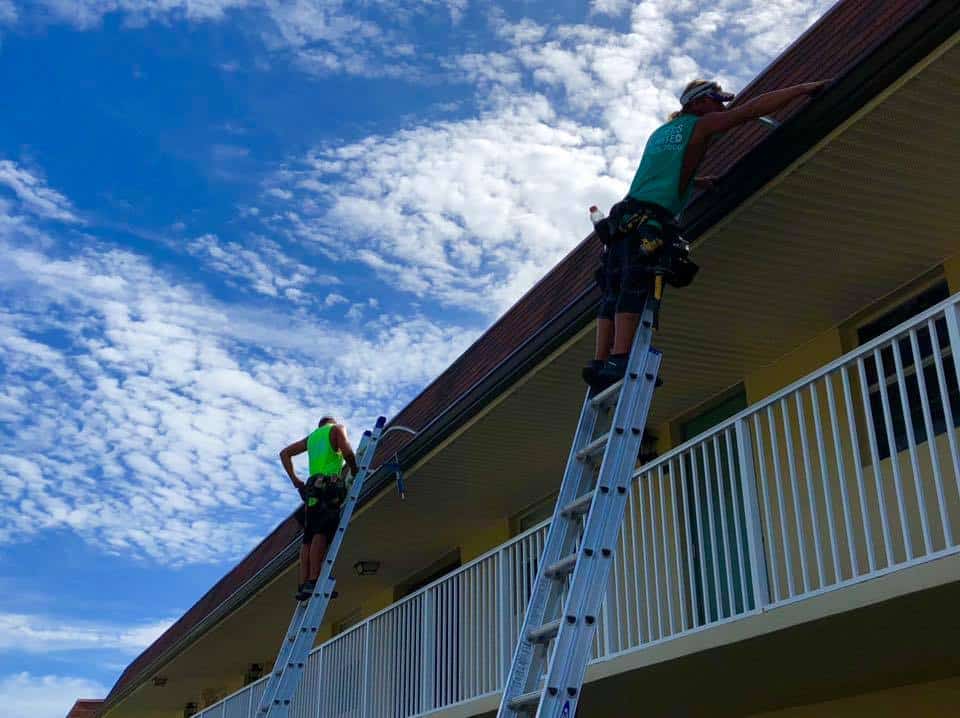 Our gutter repair Cocoa services are designed as a preventative maintenance procedure, we will remove any debris that impedes on the function of your gutter. This includes twigs, leaves, and more, once we're finished your gutter system will be restored to peak operational efficiency. By doing this, you can also save tons of money on expensive repair bills or re-construction costs. We offer top rated gutter repair Cocoa FL services.
Two very important components to any gutter system are the fascia and soffit, both of these elements work together to support the overall weight of your gutters. Fascia refers to the long straight board that runs in accordance to the lower edge of your roof, they oftentimes come in the shape of an upside-down V and cover your rafters. Soffit serves the main purpose of acting like a surface area in addition to being a seal between your roof and siding. Our soffit and fascia installation services ensure that your new gutter system will have the proper structural support It needs to operate at optimal performance levels.
Call Today for the Cocoa Gutter Repair and Gutter Installation Professionals

If you're interested in any of our Cocoa seamless gutters, gutter repair, or installation services, please feel free to give us a call or visit our website to fill out the free quote form. Our gutter services are available to all commercial and residential property owners located in Cocoa, FL, our services also come with a labor and material warranty which protects you from any issues which may develop. We also offer gutter cleaning in Cocoa, FL!
Contact Gutters Unlimited today so we can help you!