Seamless
Gutters
Port
St,
Lucie
FL
Like many other homeowners, you probably only pay attention to your gutters when they are broken, clogged, or malfunctioning. New gutters may help you prolong the life of your roof by reducing leaks and foundation issues, preventing landscaping damage, and keeping your home secure and pest-free.
Top-Rated Seamless Gutter Installation Port St Lucie FL
As seamless gutters are manufactured on-site at your house or business, the gutter's length is essentially irrelevant. 30-feet? 60-feet? We can customize and make any length of seamless gutters. As a result, your home will appear gorgeous and have no seams, leaks, or water damage.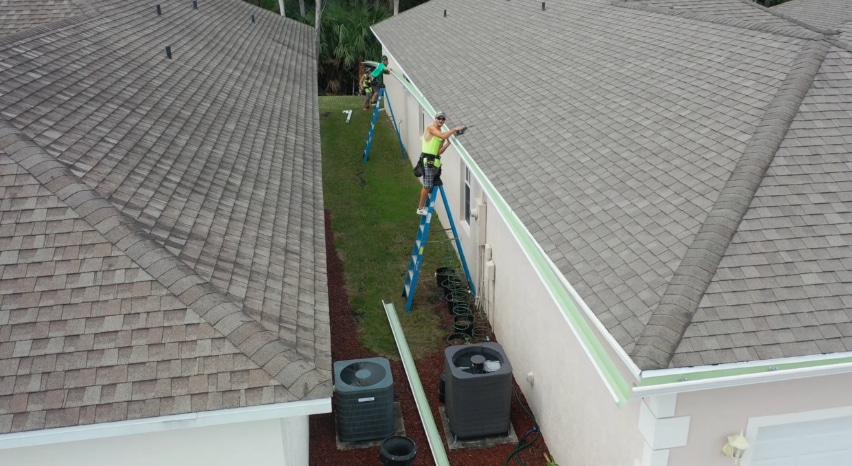 Trust the professionals at Gutters Unlimited to install new gutters on your property as one of the region's best local seamless gutter installers. We aim to serve all our Florida clients with friendly, trustworthy, and quality seamless gutters service so your gutters survive for many years. We have almost 20 years of expertise in installing and repairing gutters. Because of their extensive experience, our local specialists are aware of what residents in Port St. Lucie, FL, require when performing their seamless gutter installation Port St Lucie FL services.
Searching for Port St Lucie Seamless Gutters Near Me?
Seamless gutters are frequently stronger since there are no miters to keep the parts together. The more seams in a gutter system, the more likely there will be leaks. Due to the materials used, sectional gutters are also less durable and more prone to damage.
Gutters Unlimited offers seamless gutter installations made of the thickest aluminum and offers great performance, dependability, and durability. All our gutters are sized to suit your property and installed with your requirements in mind. By deciding to get new seamless gutters, you will enjoy benefits such as:
Never having leaking seams

Assured quality and performance with a custom fit

Increased toughness

Design and color modification possibilities

Enhanced curb appeal
Our gutter installers are skilled, permanent staff members. To ensure every Port St Lucie seamless gutter near me project is completed correctly, we have devised a system of quality control methods. We provide a quality guarantee for our installations and seamless rain gutters products. Our aim is complete client satisfaction.
Professional Seamless Gutter Company in Port St Lucie, FL!
We understand how important it is for your gutters to look good and be structurally sound. During gutter installation, we custom cut and fit our gutters to the exact specifications of your property to eliminate the unattractive seams and splices common to other gutter systems.
Seamless gutters are the better option in terms of appearance and performance. The seamless design eliminates the frequent difficulties with sectional gutters and protects against water damage, mold growth, bug infestation, and others.
Common gutter problems can, over time, seriously harm your roof, foundation, and exterior. Consider installing seamless gutters if your gutters are leaking, sagging, or exhibiting symptoms of cracking. The health and security of your house can be preserved for years by investing in a high-performance, seamless gutter system that professionals have installed.
Gutters Unlimited doesn't care if you are our first or 10,000th customer. As a top-rated seamless gutter company in Port St Lucie, FL, we are dedicated to ensuring your entire satisfaction and improving the condition of your house. We want you to be satisfied with your decision and your purchase. And we want to take pride in the seamless gutters in Port St Lucie, FL work we've accomplished.
Looking for a Trusted Port St Lucie Seamless Gutter Company Near Me?
It requires a lot of planning, arithmetic, and labor-intensive manual labor to install gutters properly. Even the most seasoned do-it-yourselfers may find installing gutters to be tough. Because of this, we sincerely hope you will contact Gutters Unlimited if you require a new guttering system. We are up to the challenge since we have over 20 years of expertise and happy clients around Florida.
Our gutter installation teams are made up of gutter specialists that have received training in and experience installing Gutters Unlimited gutter systems. They worked very hard to earn your trust and your complete satisfaction with the work they did. We are dedicated to installing items of unparalleled quality and giving customers the best possible seamless gutter repair service.
It took several years to refine the installation procedures, training methods, and partnerships with the best vendors. No matter the cost, we never lost sight of our goal throughout that period. We adhere to the highest standards and don't take shortcuts to save money at the cost of our clients.
To learn more about our gutter installation services and why so many Florida homeowners choose us as their go-to Port St Lucie seamless gutter company near me, contact Gutters Unlimited right now.
Call Today for Seamless Gutter Solutions in Port St Lucie FL!
Call or email us immediately, and we'll arrange for one of our specialists to come to your area, assess your gutter requirements, and give you unique seamless gutter solutions in Port St Lucie, FL. Next, we'll demonstrate the numerous options for materials, appearances, colors, and prices. We look forward to creating a lovely seamless gutter plan for your residence or business.