Gutter
Cleaning
Melbourne
Beach,
FL
Are you aware that the gutter system on your home or your business property plays a very important role in protecting your building materials from becoming damaged, due to excessive amounts of water? Gutters act as water channels that collect and run water away from your home, or business, and into the ground surrounding your property. If it is time for you to complete a gutter cleaning Melbourne Beach area, then Gutters Unlimited would like to hear from you!
Top-Rated Gutter Clean Out in Melbourne Beach
As a property owner or manager, it is vital for you to maintain the proper function of your gutter system. One way to ensure that they are working properly is to have a gutter clean out service performed on a regular basis. Most professionals recommend that gutter systems should be cleaned about every 6 months to a year. When gutters are free from leaves, limbs, insect nests, and other types of debris, then they will be able to provide the free flow of water that is desperately needed for your home. We know you won't be disappointed in our gutter cleaning Melbourne Beach services!
Another responsibility of the property caretaker is to ensure that the gutter system is not in need of repair service. The experts from Gutters Unlimited will gladly take care of any gutter repairs needed for your home or business. A repair service may include repairing gutters that have become warped or bent. Gutters may also need repair work if there are any cracks in the gutter materials. Gutters, as well as downspouts, should be checked regularly, in order to ensure that there are no physical issues that are easily visible.
#1 Gutter Guards Installation in Melbourne Beach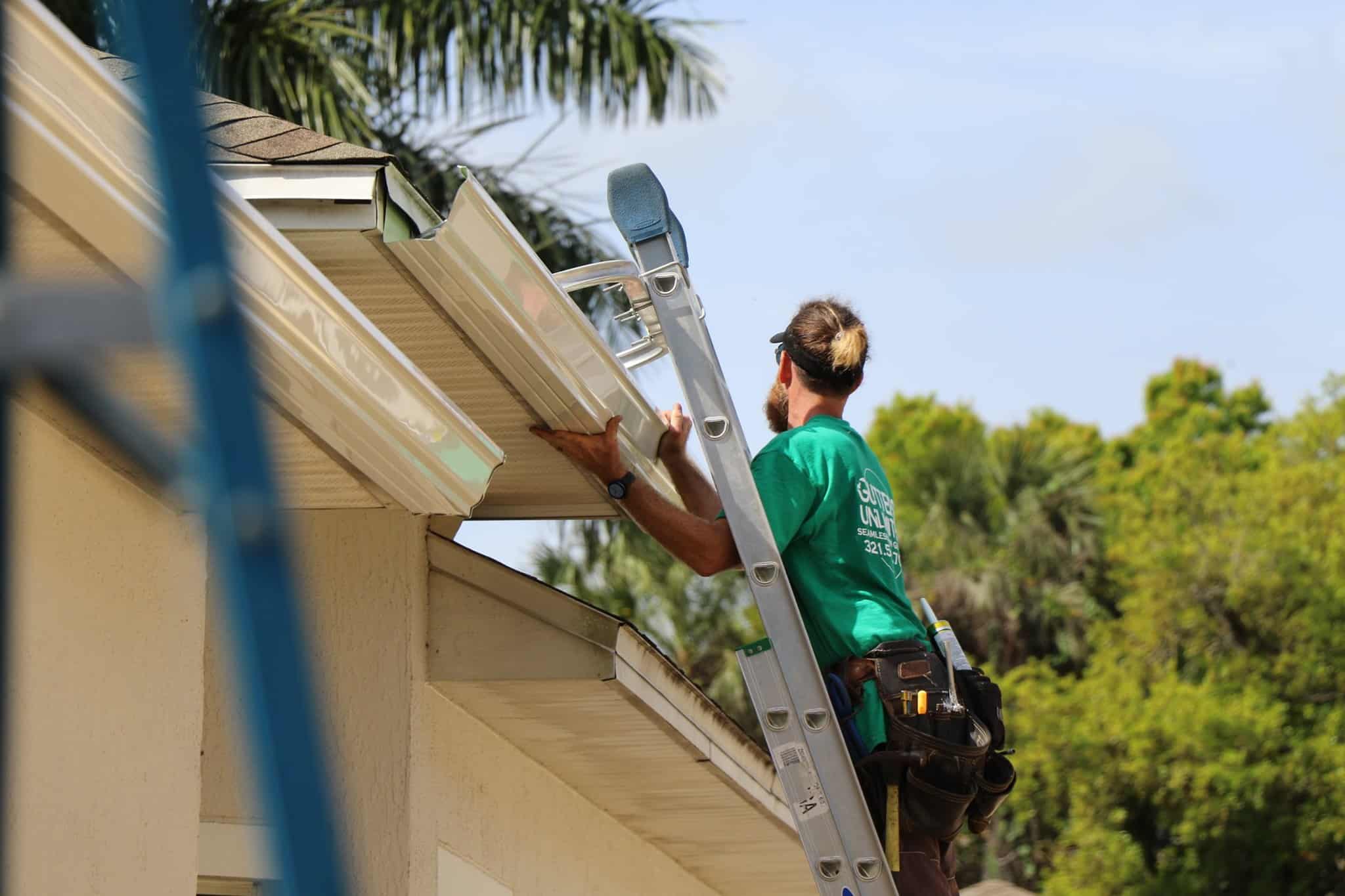 If your property is surrounded by trees and heavy foliage, then you may want to consider leaf guards for gutters. We are happy to install leaf gutter guards, also referred to as rain gutter guards, to your gutter system. A leaf guard covers the top of the gutters and prevents large amounts of debris from settling into your gutter system. Properly installed gutter guards can help to prolong the time needed between gutter cleanings, as well as help to prolong the longevity of your gutters, too. By providing leaf protection, you can ensure that your gutters are working at an optimal level.
The Best Leaf Guards for Gutters in Melbourne Beach
The beautiful, quiet community of Melbourne Beach is situated just between the Indian River and the Atlantic Ocean. This barrier island is home to some spectacular wildlife, peaceful and inviting beaches, and is a great playground for water-adventure enthusiasts. There are many opportunities for swimming, surfing, snorkeling, fishing, and many other recreational activities.
Call Today for Rain Gutter Guards and Leaf Protection
If you are in the region, and you have been looking for a gutter cleaning Melbourne Beach company that you can rely on, then please reach out to the experienced professionals from Gutters Unlimited. Our goal is to be your one-stop-shop for all projects related to your gutter system. From gutter inspection, gutter cleaning, gutter leaf guard installation, gutter repair, and gutter system installation, we have the equipment and the advanced training to take care of all of your gutter projects for you. Rest assured that there is no project that is too small or too large for us to handle. Contact us anytime! We look forward to hearing from you and helping you with gutter clean out or gutter cleaning in Melbourne, FL!