Gutter
Installation
Viera
FL
Without a properly functioning gutter system, your home's foundation will be at significant risk of damage during season of heavy rainfall. Gutters play an integral role in mediating the flow of excess water collection from your roof through the downspouts. This action helps to sustain the foundational integrity of your home so that you can live safely and comfortably.
Top Rated Viera Gutter Installation Services
At Gutters Unlimited, we have 20 years of experience in the industry which allows us to handle virtually any gutter repair issue you're facing. We specialize in 7" and 6" gutter installation in addition to custom gutters and half-round configurations. Our team is equipped with industry-leading tools and equipment to deliver premium results on a consistent basis.
With traditional gutter systems, there are joints all throughout the design which can act as traps for leaves, branches, and other debris. Seamless gutters on the other hand only utilize joints and fasteners at the corners. This type of design results in reduced leakage and obstructions given the fact that water can flow unimpeded while being mediated.
We Specialize in Seamless Gutters as well as Soffit and Fascia installation in Viera
Our Viera seamless gutters are made from premium materials such as copper and steel. Prior to beginning the Viera gutter installation process, our team will analyze your property to identify the best installation approach. Some of the factors that we take into consideration when installing new gutter systems are the height of your roof, and the material that your roofing structure is made from.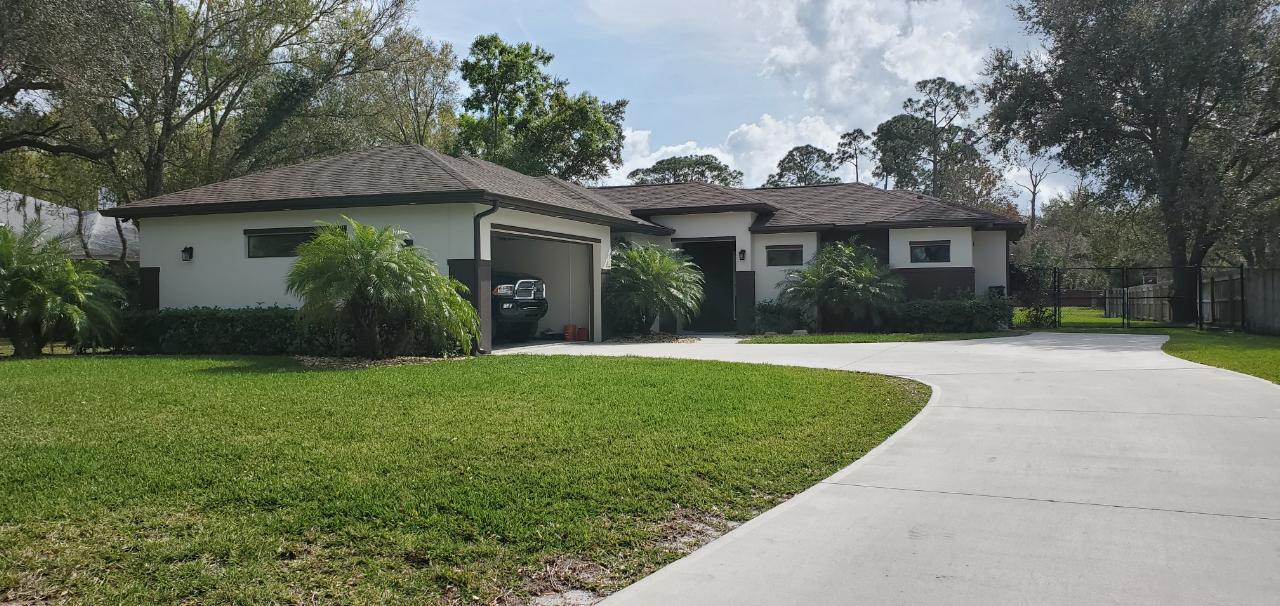 All of our gutter systems are made using high-quality components and are positioned to provide the most efficient water drainage. Not many property owners think about maintaining their gutters on a regular basis, this can lead to issues such as clogs in your system in addition to damages that cause it to stop functioning properly.
Many property owners neglect the proper maintenance of their gutter system until it's too late. Gutter repairs in Viera can be very costly which is why you should consider applying some sort of preventative maintenance in order to avoid the issue altogether. One of the best Viera gutter repair solutions available is simple preventative maintenance, this involves regularly cleaning your gutter system to remove obstructions that may impede the water flow.
We can help you clean and repair your gutter system in the event of any issues, soffit and fascia are also very important components of your gutter system. When you hear the word fascia, it refers to the straight board that runs in unity with the lower edge portion of your roof. Fascia boards are oftentimes shaped in the form of an upside-down V and they cover the ends of rafters on your roof.
Call Today for the Viera Gutter Repair Professionals
Soffit is used as a surface area and it acts as a seal between your roof and siding, these two components are essential in supporting the weight of your gutter system. When you install a new gutter system, soffit and fascia installation is required as your new layout will require a re-configuration to support the weight of your new system. Our team is capable of installing the exact soffit and fascia that you need to ensure your new gutter system operates at its highest efficiency. 
Our services are available to all commercial and residential property owners located in Viera, FL. We also offer gutter cleaning services in Viera, FL and the surrounding areas! If you would like a free service quote, give us a call or fill out the form on our website to get started.
Contact Gutters Unlimited today!