Gutter
Cleaning
Grant-Valkaria,
FL
When you are searching for services for gutter cleaning in Grant-Valkaria, you will probably find that there are several companies from which to choose; however, the experienced staff from Gutters Unlimited would like to be the company that you choose. Our team of professionals works diligently and efficiently, in order to provide high-quality gutter clean out in Grant-Valkaria, for all of our residential and commercial customers. We know that your home or business is very important to you, and we will do everything that we can to protect your property and provide the effective services that you expect from a truly dedicated company.
Top-Rated Gutter Clean Out in Grant-Valkaria
In addition to offering gutter cleaning Grant-Valkaria services, we also offer a full range of other gutter-related services. We provide services for gutter installation, gutter repair services, leaf protection with a gutter leaf guard, seamless gutters, and rain gutter guards in Grant-Valkaria. We are a comprehensive gutter company, and you can rely on us to take care of your gutter projects in a professional and confident manner.
If you are in need of gutter guards in Grant-Valkaria, then you have come to the right place.  We have a wide selection of leaf guards for gutter in Grant-Valkaria that we offer to our customers. A leaf guard is placed on top of the vacant gutters and will provide a barrier against falling leaves, limbs, and other types of debris. The leaf gutter guards in Grant Valkaria will help to protect the gutter channels, thus preventing debris from clogging the passageway of running rainwater.
#1 Gutter Guards in Grant-Valkaria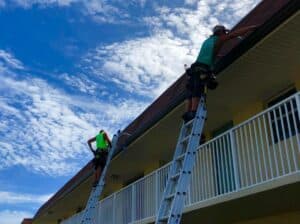 The gutter system of your home or business is a very important system. The gutters act as channels that allow rainwater to run away from your structure and into the ground surrounding your property. This is important because water that does not flow away from your place will flow somewhere, and misdirected water can cause significant damage to your building materials, especially if allowed to flow in the wrong direction for an extended amount of time.
The Best Leaf Gutter Guards in Grant-Valkaria
Located just south of Melbourne, which is where the home office of Gutters Unlimited is based, Grant-Valkaria is a peaceful, calming, and beautiful place. Approximately 5,000 people live in the area, and many more people visit Grant-Valkaria on an annual basis. The area has welcoming, scenic beaches and several nature preserves around, too. The nearby Indian River Lagoon Preserve State Park is a favorite among locals and visitors. There are plenty of opportunities for boating, kayaking, fishing, hiking, watching wildlife, and many other things to do within the park.
Call Today for Rain Gutter Guards and Leaf Protection in Grant-Valkaria
If you are a homeowner or a business owner in the Grant-Valkaria community, and you have been searching for a full-service gutter company, then our team members from Gutters Unlimited would like to hear from you! We have a wealth of experience, gutter-related knowledge, and hands-on training that allows us to provide high-quality services and we place customer satisfaction as one of our highest priorities. With every project that we work on, we aim for 100% customer satisfaction.
If you would like to hear about our free estimates on our gutter clean-out in Grant-Valkaria, then please reach out to Gutters Unlimited professionals today. We look forward to hearing from you at any time of the year!