Gutter
Cleaning
Indialantic,
FL
If you have been searching for a professional company to handle your gutter-related projects, such as installing leaf guards for gutters or gutter cleaning Indialantic area, then please look no further than our company, Gutters Unlimited. Our highly-trained and experienced gutter experts have advanced training, hands-on education, and the workmanship skills required to provide all of our customers with reliable gutter-related services. We gladly serve residential and commercial customers, all throughout the Indialantic area, and in the surrounding communities, as well.
Top-Rated Gutter Clean Out in Indialantic
The gutter system on your home or your business property is a very valuable system. The gutters act as channels for rainwater to flow away from your home or business, thus protecting the rest of the structure from receiving water damage. As you know, our area receives some very heavy rain during strong storms, and it is important for you to keep your gutters in tip-top shape, so they can function at an optimal rate.
When gutters are not working properly, then the water may flow into an area of your home or business that is unprepared for water access. This misdirected water may cause significant damage to your building materials, especially if the water flows in this wrong direction for an extended amount of time. Water damage to unsuspecting building materials can quickly become very expensive and complicated to repair. This is one of the main reasons why it is important to care for, and maintain, your gutter system.
#1 Gutter Guards Installation in Indialantic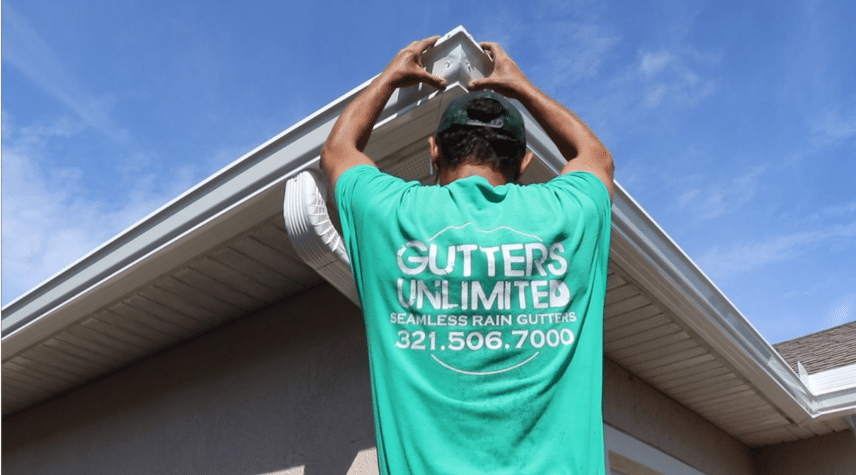 In addition to providing gutter clean out services and gutter installation services, we also offer many other gutter-related services to our customers. If your gutters do not already have gutter guards on them, then this may be a service that is interesting to you. Leaf gutter guards and rain gutter guards in Indialntic help to maintain your gutters by providing a leaf protection barrier against falling leaves, limbs, and debris from clogging up the gutter channels. A gutter leaf guard is simple for us to install, and the benefits from a leaf guard can make a world of difference for your property's structure.
The Best Leaf Guards for Gutters in Indialantic
Located directly east of Melbourne, which is the home headquarters of our Gutters Unlimited company, Indialantic is a small community, comprising of approximately 3,000 residents. This quaint area offers residents a small-town, friendly atmosphere, while also being within an easy drive of other interesting communities, too. One place that is certainly a worthwhile visit in the Indialantic area, is the James H. Nance Park. This is a peaceful area that offers a beautiful beach and plenty of welcoming amenities, too.
Call Today for Rain Gutter Guards and Leaf Protection
If you are in the market for a professional gutter company that can help you with all of your gutter projects, then please reach out to a representative from Gutters Unlimited today. We have all of the skills and the training needed to work on a variety of gutter projects, including a full installation project or a simple gutter repair, too. We are always available to offer free estimates for potential service, as well as complete details about the service that is to be performed. As always, we look forward to hearing from you at any time of the year! We can't wait to provide you with our gutter cleaning Indialantic services.