Gutter
Cleaning
Palm
Bay,
FL
You might be dismayed by how filthy and stained your gutters are. Gutters typically get stained after long-term use, but the longer you ignore your gutter cleaning, the worse the problem becomes. However, there is an easy fix. Gutters Unlimited, the highest-rated gutter cleaning service in Palm Bay, Florida, can get your gutters cleaned seamlessly. Our team provides Palm Bay residents with gutter washing services at a low price. You are sure to enjoy a swift and reliable experience with us.
Gutter cleaning is an essential process that many homeowners might overlook when it's time to do home maintenance. If you fail to clean your gutters at least once a year, you risk damaging your roof, siding, and foundation. Plus, if you choose to hire a contractor to clean your gutters, it can cost up to $1,000 for a 2-story house! Hiring us for a gutter clean-out in Palm Bay, Florida, can save you up to 50% versus other contractors, and we guarantee the quality of our work as well.
Top-Rated Gutter Cleaning in Palm Bay
Why should you hire Gutters Unlimited? Simple. Gutter cleaning is a messy job. It takes time to clean those gutters by climbing on the roof. You will also probably end up with hard-to-remove stains. And you will have to get those clogged gutters cleaned quite often, which is not only an inconvenient chore but also expensive.
The daunting task of clearing out all the pine needles and dead leaves in your gutter is not pleasant. And with your busy schedule, you probably don't have the time to do it yourself. Thankfully, our All-Clear system protects your rain gutters from clogging and damage caused by leaves and other debris.
Searching for Gutter Cleaning Near Me?
You do not need to search for gutter cleaning services near you to find a good contractor. Gutters Unlimited is right here for you in Palm Bay, Florida. Our service is 100% guaranteed. We have been cleaning gutters in Palm Bay since 2005 and counting. Consequently, we can assure you that our technicians will do a great cleaning job while providing the best customer service experience.
At Gutter Unlimited, we are fueled by problem-solving. Our primary focus is to save you time, money, and energy. You see, most companies don't go after the sources of your problem; they only treat the symptoms. With Gutter Unlimited, you will receive a fast, friendly, and hassle-free experience at a fair price. In addition, you don't have to worry about the health of your gutters, siding, and fascia.
Expert Gutter Clean Out Palm Bay Residents Trust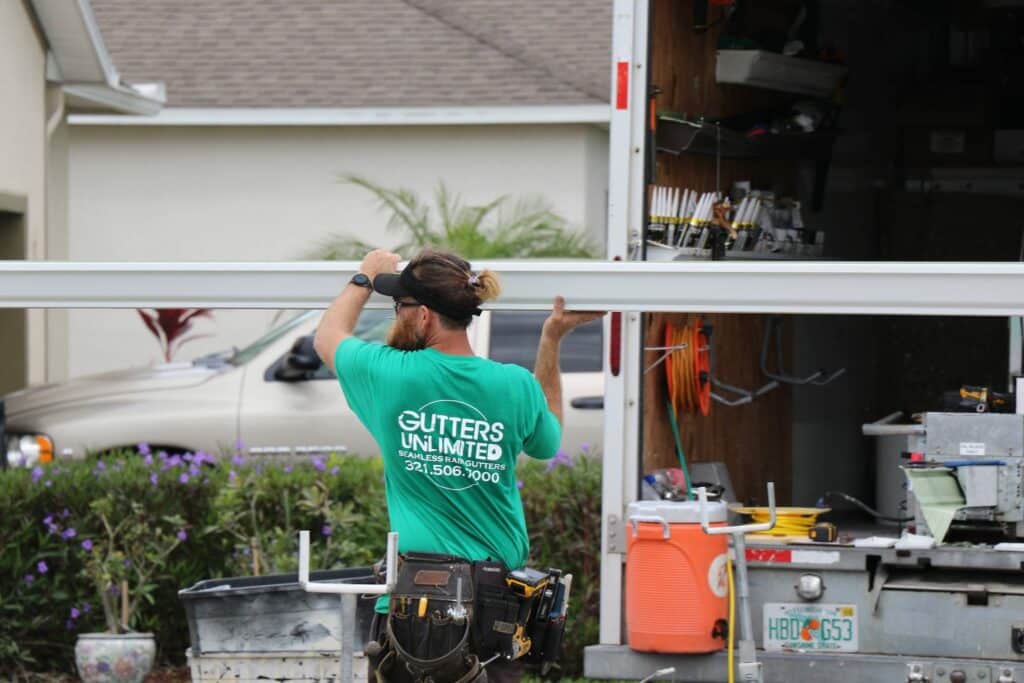 Palm Bay is one of the hidden gems in Central Florida. You can see it from the scenic highway that runs along the Indian River Lagoon on Florida's Atlantic coast. There is a 4-mile stretch of Palm Bay as the entrance to the city. It has many surprises for its residents, such as fancy restaurants, beautiful views of the water, and a calm environment.
It's a lovely location because it's close to many other towns and the beach. A nice and quiet area away from large, congested cities.
Call Today for Gutter Cleaning in Palm Bay, FL!
Do your gutters look like they need a tune-up? If that is the case, Gutters Unlimited will clean and maintain your gutters all year long! We'll provide you with a quick, friendly, and professional gutter cleaning service at an affordable price. Ask around – your neighbors are probably using our services too!
Palm Bay residents are welcome to employ our services at any time. Please leave it to us so you can enjoy cleaner gutters, a healthier home, and more free time. Contact us today. We cannot wait to work with you!