Gutter
Cleaning
Palm
Bay,
FL
Gutters Unlimited is pleased to offer dependable and affordable gutter-related services to all residential and commercial customers in the Palm Bay area. If you have been searching for a gutter cleaning Palm Bay company, then look no further than Gutters Unlimited. Our professional staff has advanced skills and gutter-related expertise that are needed to take total care of all of your gutter issues. We are excited to hear from you and work with you, any time of the year!
Top-Rated Gutter Clean Out in Palm Bay
In addition to offering gutter cleaning Palm Bay services, we also provide services for gutter inspection, gutter installation, gutter leaf guard installation, and gutter repair services. Our goal is to be your all-inclusive gutter care company. Our team members understand the importance of a fully functioning gutter system and the nuances involved in ensuring that the gutters are functioning at an optimal level. We take our time to ensure that we take the very best care of your property's gutter system.
#1 Gutter Guards Installation in Palm Bay
The gutter system of your home or business property plays an important role in protecting the building materials of your place. Gutters act as channels that allow rainwater, and other types of moisture, to flow away from your building materials and into the ground surrounding the structure. Taking care of your gutter system will allow the gutters to work properly and will eliminate the concern for unsuspecting water damage.  
Expert Gutter Cleaning Palm Bay Residents Trust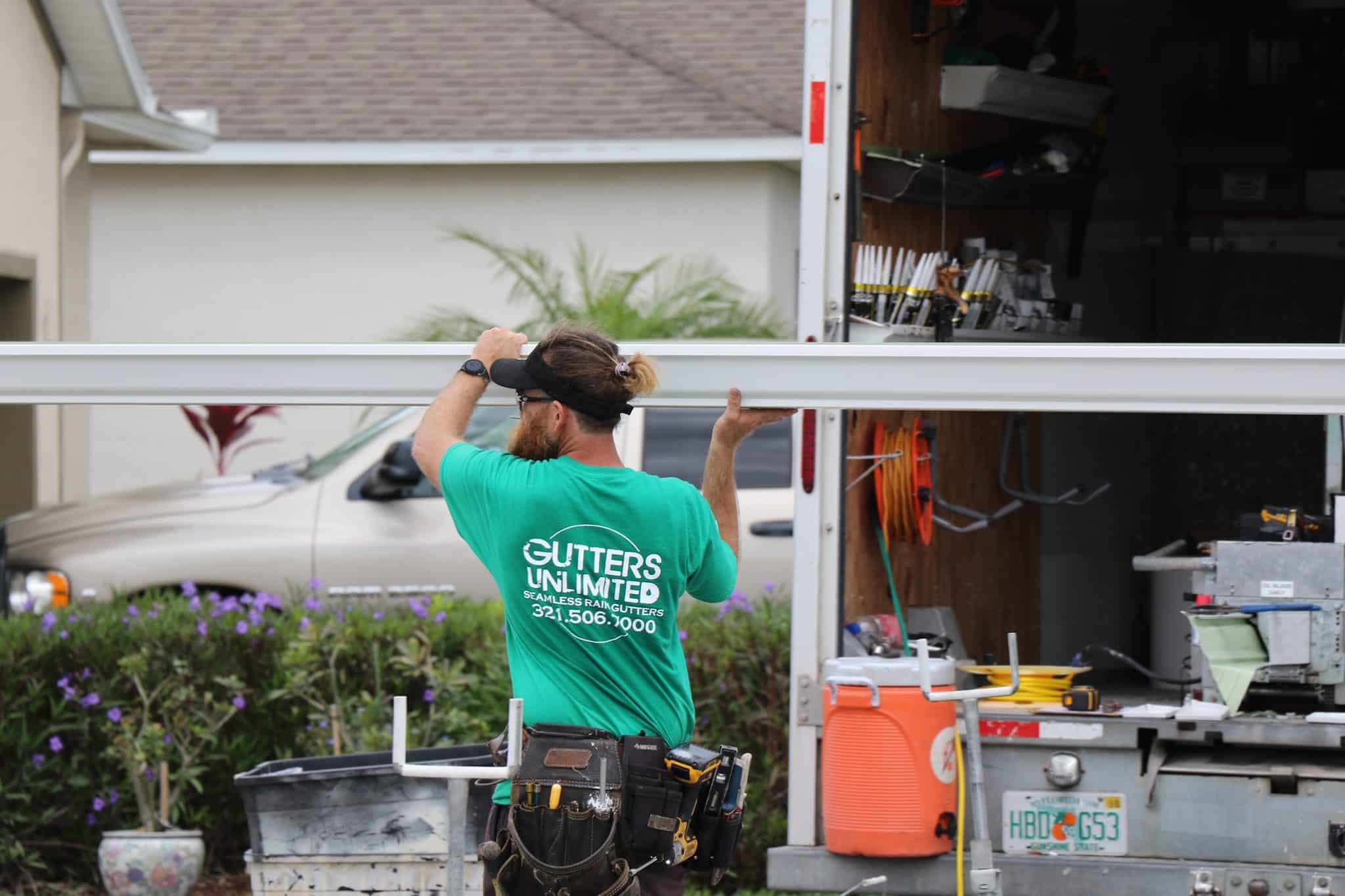 Most professionals recommend that gutters should be cleaned about every six months to a year. A gutter clean out Palm Bay service includes the removal of fallen debris, such as; leaves, sticks, insect nests, and anything else that can clog the water flow through the gutters. If you believe that you need stronger leaf protection, then you may be interested in our leaf guards for gutters.
The Best Leaf Guards for Gutters in Palm Bay
Leaf gutter guards, also called rain gutter guards, are placed along the top of the gutters and will prevent large types of debris from entering the gutter system. Over time, the expense of gutter guards may be a good investment, because the purpose of the leaf guard is to keep the gutters clear from troublesome debris. Leaf guards may be especially attractive to properties that have a lot of foliage and large trees. When it comes to leaf protection and gutter cleaning services in Palm Bay, nobody does it better than Gutters Unlimited!
Call Today for Rain Gutter Guards and Leaf Protection
Palm Bay is sometimes dubbed the "bass fishing capital of the world". It is a growing community that is currently home to approximately 112,000 people. Palm Bay is well-known for being a very nice place to live in or to visit. The area is dotted with welcoming local parks, nearby beaches, plenty of shopping and dining establishments, and so much more. Offering favorable year-round weather, Palm Bay is a city to enjoy any season of the year.
If you are a property owner or manager in the Palm Bay area, and you have been looking for a reliable company to take care of all of your gutter-related projects, then please reach out to Gutters Unlimited today! There is no project that is too small for us to handle or too large for us to tackle. We are excited to hear from you and work with you anytime! We look forward to helping you with any gutter clean out or gutter cleaning Palm Bay, FL services!