Gutter
Repair
Palm
Bay,
FL
Are you looking for reliable gutter repair services in Palm Bay, Florida? Your search is over! Gutters Unlimited is an expert-vetted gutter installation and repair service ready to give your gutters a superb renovation. We provide Palm Bay residents with preventive maintenance, leaf protection, and extra wire mesh to keep their gutters functioning at high capacity.
You don't have to put up with leaky and potentially dangerous gutters. If you have been searching for an affordable, professional, and efficient service in Palm Bay, Florida. It has probably been a lengthy process of checking reviews and examining samples. Thankfully, Gutters Unlimited checks all the boxes for gutter installation, cleaning, and repair. We offer dependable, cost-effective gutter repair services. We also only use high-quality materials and computerized tools to make sure that your gutter is put back in perfect shape.
Top-Rated Palm Bay Gutter Repair Services
With over 20 years of experience under our belt, we understand what it takes to restore your gutters and have created a reliable, affordable, and easy service for you. In just a few minutes, you can get your free quote to repair your gutters and downpipes in Palm Bay.
Our highest priority is excellent customer service. We believe it puts the finishing touch on the spectacular repair we have done for your gutters. Consequently, our technicians take the time to listen to your grievances and explain how to resolve the issue. Furthermore, we provide free expert advice on additional steps you can take to prevent any future issues outside of our service visit. That way, you can be sure that your property is left safeguarded for many years to come.
Searching for Gutter Repair Near Me?
Finding the best gutter repair service in the whole of Palm Bay can be a bit daunting. You could quickly end up with a beat-up gutter or, even worse, a patchy installation that is second-rate at best. Correctly installed gutters provide several benefits around your home – including preventing water damage, extending the life of your roof, making your home more appealing, and preventing mold and mild dew growth.
At Gutters Unlimited, we've got our act together when it comes to installing gutters and downspouts like industry specialists who continue to impress customers with their hard work. And guess what? That's exactly who we are. We'll help you repair your gutter and give you an unbeatable price that won't disappoint you. Our services are cheap, effective, and convenient for all residents of Palm Bay.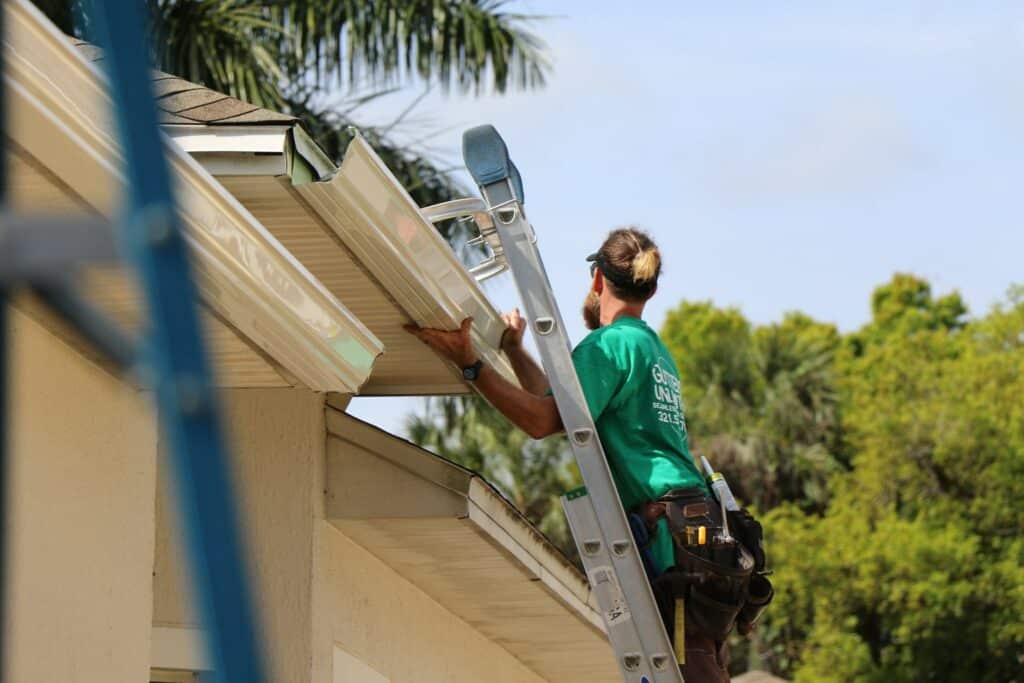 Expert Gutter Repair Palm Bay Residents Trust
The easiest kind of gutter repair that can save you a lot of time and money is a routine gutter maintenance plan and gutter clean-out in Palm Shores. Gutters Unlimited can take care of your gutter cleaning and can keep an eye on any needed repairs.
Gutters Unlimited also offers full-service gutter installation. Specifically, we specialize in 6″ & 7″ rain gutters as well as half-round and custom shapes. We are proud to serve both commercial and residential properties and work with the best roofing companies in town as well.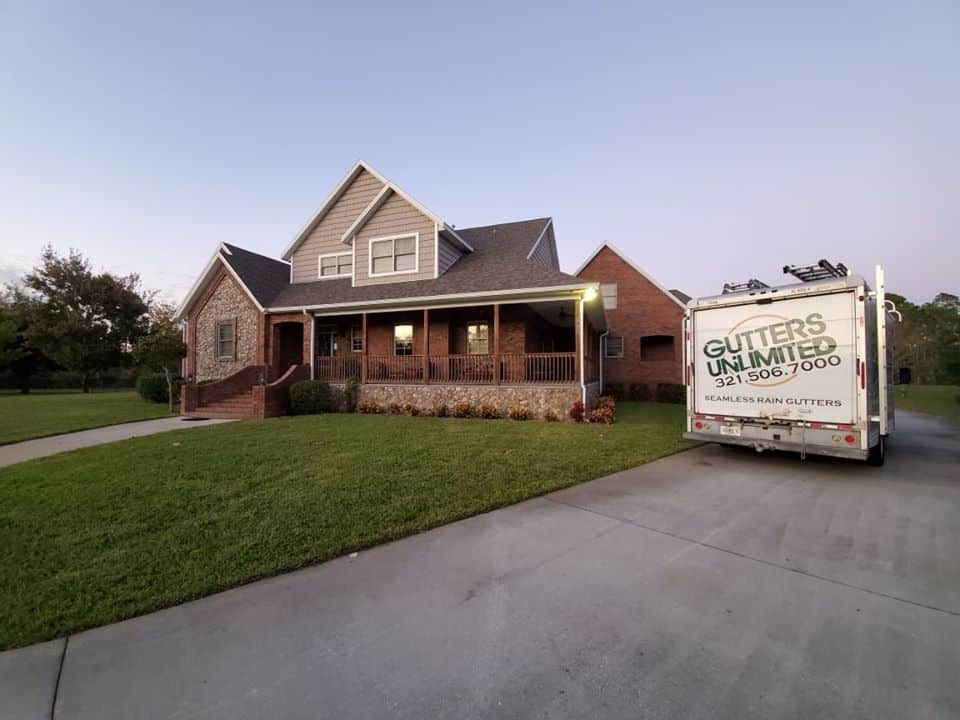 Call Today for Gutter Repair in Palm Bay, FL!
Gutters Unlimited can repair and replace gutter systems, ensuring no more water leaks through the gutters and onto your home. Furthermore, our systems are guaranteed not to leak for a decade, so they will last you longer than you think. We also install gutters for both new homes and renovated homes!
Palm Bay is a unique city that is known all over the country for its beautiful scenery and picturesque surroundings. Beautiful outdoor trails wind through the area; waterfront views beckon you to watch the sunset, and there are a variety of activities you can participate in all year long.
At Gutters Unlimited, we strive to make your life easier by boosting the lifespan of your gutters and protecting your investment. We accomplish this in several ways, first by providing maintenance cleanings twice a year at an affordable cost. And secondly, by using only the best quality products on the market. Contact us to refurbish your gutter back to its original state today!