Gutter
Cleaning
Rockledge,
FL
Have you been wandering around the exterior of your home and thinking about getting a gutter cleaning Rockledge service? If so, then Gutters Unlimited would like to hear from you. We are an all-inclusive gutter care company, and we have a full range of gutter-related services to offer to residential and commercial customers in the area.
Top-Rated Gutter Clean Out in Rockledge
The professionals from Gutters Unlimited are equipped with top-of-the-line tools, advanced training, and plenty of experience with projects related to gutter systems. In addition to offering gutter clean out services, we also offer gutter inspections, gutter installation service, gutter repair, and installation services for leaf guards for gutters, too.
Proper function and maintenance of your gutter system is a very important job for any property owner. The gutters on your home or business protect your place from acquiring water damage that can be devasting for your building materials. Gutters act as channels that allow water to flow freely away from your home and into the ground surrounding your place. Gutters should be free of debris, such as leaves, limbs, and insect nests, in order to function properly.
#1 Gutter Guards Installation in Rockledge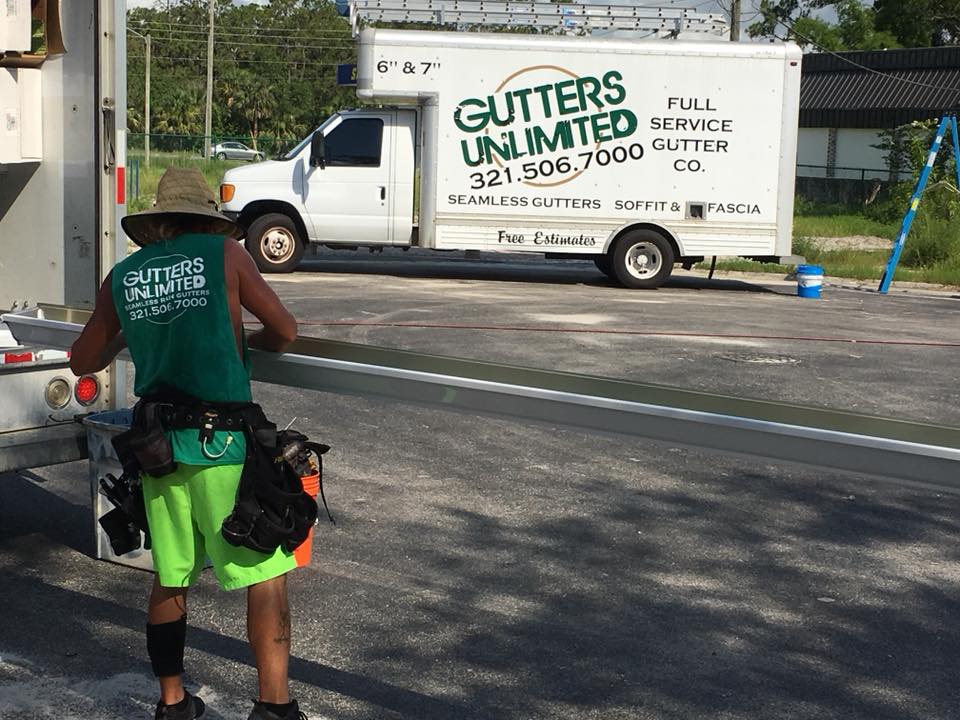 If you are a property owner who has a lot of trees and vegetation around your home or business, then you may be interested in our leaf gutter guards, also known as rain gutter guards. A gutter leaf guard can be placed along the top of the gutters and will help prevent fallen debris from entering the gutter channels. Gutter guards will help to prolong the time period between gutter cleaning services, as well as help to protect your home/business from misguided water damage.
The Best Leaf Guards for Gutters in Rockledge
Our team members gladly offer services for gutter inspections and can provide a free estimate for leaf guard installation. If leaf protection is something that is of interest to you, then you can count on Gutters Unlimited to install a gutter guard system that is customizable to your gutters.
Rockledge is known as the oldest city in the Brevard County area. Home to approximately 28,000 residents, Rockledge is a fun place to live in or to visit. People of all ages enjoy the amenities that Rockledge has to offer, including; plentiful local parks, nearby beaches, such as Cocoa Beach, and the Brevard Zoo, which is also within proximity. Rockledge can be a wonderful place to be all year-round, due to favorable temperatures and inviting places to explore.
Call Today for Rain Gutter Guards and Leaf Protection
As a property owner or manager in the area, you know that taking care of your place is an important task. Although we do have favorable temperatures, we also have plenty of rain and moisture in the Florida air. The gutter experts from Gutters Unlimited have the skills to take care of all of your gutter-related projects. Whether you are interested in an initial inspection, a replacement, repair, or any other gutter-related service, you can count on us to provide you with the best customer service and the most personalized attention available. We know that your home or your business is important to you, and we will do everything we can to help you care for your property in an efficient and responsible manner. Contact us any time of the year! We look forward to hearing from you and helping you with gutter cleaning in Rockledge, FL!