Gutter
Cleaning
Titusville,
FL
The professionals from Gutters Unlimited are pleased to offer top-quality gutter cleaning Titusville services to all residential and commercial customers in the area. In addition to offering reliable services for gutter clean out projects, we also provide gutter installation services, gutter repair services, gutter leaf guard installation, gutter and leaf guard cleaning services, soffit and fascia installation and repair services, and so much more. Our company would like to be your one-stop shop for all of your gutter-related projects, and we want you to know that we always strive for 100% customer satisfaction with every single service that we provide.
Top-Rated Gutter Clean Out in Titusville
We understand the importance of a fully functioning gutter system, and we will do everything that we can to ensure that your gutters are working properly, in order to protect your home from receiving any type of water damage. As you know, our area experiences many rainstorms throughout the year, and it is imperative that the gutters on your home or business structure work as efficiently as possible.
#1 Gutter Guards Installation in Titusville
If your gutters are not already equipped with gutter guards, then you may want to check out the rain gutter guards that we have to offer. Leaf guards for gutters can help to prevent your gutters from becoming clogged with roof debris, leaves, limbs, animal nests, small critters, and other things that may cause an obstruction within the gutter system. With our years of experience, we have quickly become the best Titusville lead filter installers in the area!
It is important for your gutters to remain free from debris, so water can flow through the gutter channels and into the ground surrounding your home or business. Leaf gutter guards will not only provide assistance for leaf protection but will provide protection from many other substances, too.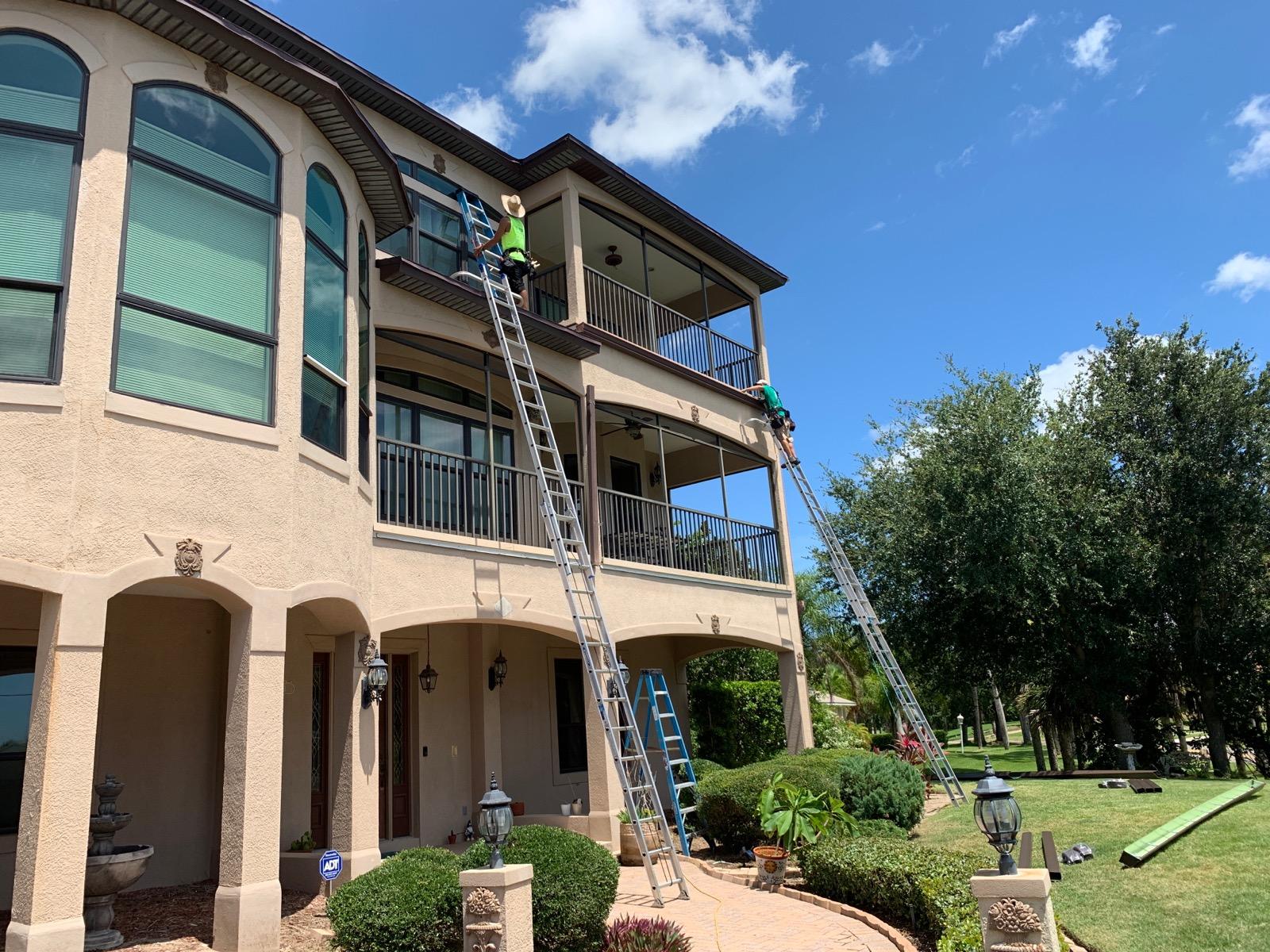 The Best Leaf Guards for Gutters in Titusville
The professionals from Gutters Unlimited have all of the equipment, knowledge, and skills needed to ensure that your gutter system is working properly. From an initial inspection to gutter repairs, to installation services, and to many other services, you can feel confident that we will take care of your project. We aim to provide some of the best customer service in the area, along with reliable results, affordable prices, and a pleasant experience for everyone involved. Our years of experience in the industry have allowed us to provide the best gutter cleaning Titusville services in the area!
Expert Gutter Cleaning Titusville Residents Trust
Titusville is the county seat of Brevard County. It is home to around 46,000 residents, and many more people visit the area on an annual basis. Located on the western edge of the Indian River, Titusville offers easy access to some beautiful beaches, the Florida Space Coast, and many other intriguing communities throughout the state. This friendly and safe area is known for its' rich history, an abundance of natural areas, and as being a center for Space explorers and enthusiasts. The United States Astronaut Hall of Fame is located in Titusville, which is a great place to learn about the Space program and its' famed astronauts.
Call Today for Rain Gutter Guards and Leaf Protection
If you live or work in the Titusville area, and you have been looking for a professional group to assist with your gutter-related projects, then please reach out to a representative from Gutters Unlimited. Our team members have many years of experience in the gutter industry and we welcome the chance to share our knowledge with you, as we help to protect your home or your business property. We are available all throughout the year, and we look forward to hearing from you anytime! We can't wait to provide you with our gutter cleaning Titusville and gutter clean out Titusville services!